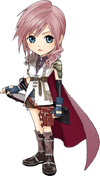 Tueur de Blocks
Messages: 455
Inscription: 31 Juil 2007, 02:49
Localisation: United States Central Time Zone
Ok I'm going to finish this story up today then post Interdimensional Catastrophy tomorow here is a compleat list of the stories in the order which they will be posted here.
This Forum's order

Interdimensional Travel*
Interdimensional Catastrophe*(70 chapters long in like 50 something posts I don't know how yet but I will make this thing shorter even If I have to ask a mod or admin to delete the entire thread and start from scratch)*
Code Lyoko meets Garage Kids *(At this time edits have been completed more in the future are unlikely however I'm not going to say there won't be more becuase I was a kid when I started this stuff and never thought I'd change anything in any of these stories but I was wrong about that.)*
Code Lyoko Pure, and Mremaid Melody Quest for infinity
Reverse Dimension Panic*(finished at this time But I will go make a few edits every once and a while)*
Sara Returns *
Anime Intrusion
Time Travel Hassle
Summer at Kadic
Cross Dimensional Disaster*
A New Beginning* (I may change the title of this one)

Wait no more between chapter entertainments?
You can do more in Interdimensional Catastrophe.
Yay!
Odd shut up!
He doesn't have to!
Go away so I can post the next chapter!
Edit: Pretty much all of these stories have been canceled. most of them because they were stupid ideas to begin with I just didn't know at the time I have placed an asterisk next to titles that will be edited, replaced with newer versions(this story included), or will still be made eventually but in a different form than what I originally intended... so better. The full list will remain so we can all laugh at the bad Ideas I had when I was younger.
Seriously though I really need to fix the problem with InterDimensional Catastrophe being too long In the rewrite that thing is going to be maybe thirty chapters If I can even stretch it that far. I think At last count there were 75 chapters or something and since I posted multiple chapters in one post a few times I think It came out to around 50 total posts of fanfiction that I now have to replace. I really Don't think I can do that unless I can delete some of those extra posts or outsource for filler chapters or something.
Dernière édition par
DragonGirl
le 16 Déc 2014, 23:56, édité 2 fois.
.....Yay ... just yay