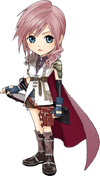 Tueur de Blocks
Messages: 455
Inscription: 31 Juil 2007, 02:49
Localisation: United States Central Time Zone
Chapter 41 Darn it I'm running out of chapter titles
Sara touches the Wind Waker to Odd's right hand nothing happens then it glows for 5 minutes then nothing then 20 minutes later there's still nothing going on..... Well until this happens.
Sara: Darn it!!! (Opens a portal to Hyrual and troughs the Wind Waker through it (the portal closes afterwards))
Kikki: See this is why I need to become a Witchling too!!!!
Sara: Shut up Kikki
Meanwhile in Hyrual
Spyro: (the Wind Waker falls on his head) Ow
Ember: Hey Spyro! Why are we in Hyrual again?
Spyro: I don't know
Zelda: Shut up! (Grabs the wind waker)
Spyro and Ember: WHY?
Link: Go back to the Dragon Realms already!
Meanwhile On Lyoko in a sector that looks like the Mountain Sector only the brown parts are black, the few trees are ether burnt or on fire, lava inside some of the mountains, the occasional eruption, and the Digital Sea is replaced by lava that has an Instant-devitalization effect instead of Permeant-Virtualization (Unfortunatly this also works on monsters). Well one of the towers Activates only instead of changing to red, white, or green it becomes purple. Oh and a portal opens close by. Ok here's what team Lyoko is doing.
Sara (and everyone else): ................................................................
Kikki: It's way too quiet in here!
Odd: (
Seriously
)
a portal opens
Aelita: Where'd that come from? (Points at the portal)
Jeremy: I don't know!
Ulrich And Yumi: Who cares!!!
Sara: (staring at the portal) .......................................
Kikki: Why is it Purple?
Miabelle: Yeah Aren't portals usually more than 1 color?
Dorie and Caitlin: Ummmmmmm we don't know!
Reanne: I think Mirabelle's right
Sara: Will the 5 of you just shut up for a minute I'm trying to think.
Kikki and the witchlings: Ok!!!!
Sara: Someone needs to See where the portal goes!
Everyone else: .................................
Sara: Do I have to do everything that involves magic around here? (Goes through the portal them comes back) It goes to Lyoko.
Aelita: Why Lyoko?
Sara: Don't ask me I didn't open the portal!..........Oh I did notice that the coloring around one of the towers was different.
Ulrich: There's an activated tower so what just have Aelita go through th portal and deactivate it..
Sara: It was purple.
Ulrich: Your point?
Jeremy and Aelita: THAT MEANS THAT WE DON'T KNOW IF THE ACTIVATED TOWER IS A GOOD THING OR A BAD THING!!!!!!!!!!!!!!!!
Sara: Actually It means that someone with magic is really board!
Odd: (
I am so busted!
)
Aubere: That's impossible because the only person who would be board enough and annoying enough to do that is dead besides we're not in science or math right now.
Sara: Oh really Aubere? (Raises an eyebrow)(
We'll just see about that.
)
Aubere: (
No fair why do you get to have telepathy?
)
Sara: (
Because My interdimensional equal is Princess Zelda!
)
Amanda: Wow it got quiet in here fast!
Sara: (walks over to where Odd is) ODD DELLA ROBIA YOU WAKE UP RIGHT NOW I KNOW THAT YOU'RE NOT DEAD OR OUT COLD SO STOP FAKING IT!!!!!!!!!!
Odd: (sits up) Ok that's the last time I ever make you mad. (
I hope. Other wise I'll have a problem worse then my 5 older sisters and Xana combined to worry about.
)
Aubere: Why couldn't you have just died?
Odd: Shut up Aubere!
Jim walks in through the hole in the wall!
Jim: What's going on here and what's that? (Points at the portal)
Sara: (whispers) Dimension warp Blast! (Warps Jeremy and Aelita to the factory)
Jim: What the heck is going on here!
A few seconds later at the factory!
Jeremy: RETURN TO THE PAST NOW!!!! (Presses enter)
Ok a blue light passes over basically everywhere and everyone knows what that means.
.....Yay ... just yay