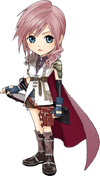 Tueur de Blocks
Messages: 455
Inscription: 31 Juil 2007, 02:49
Localisation: United States Central Time Zone
I'm going to be posting a fanfic on this thread tomorrow I still have some editing to do otherwise it would be today. I just thought you should know It may be a code Lyoko story but it has other shows in it too like Winx Club, Magical DoReMi and Mew mew power I thought I should warn you before I confuse anyone. Oh and I have the whole story typed because I posted it On a different site Dont bother Looking for it because this one will be the better version I wont change much form my original fanfic just enough to make it good enough. It's the first fanfic I ever did so it probably wont be good.
(It's in script format but it't too late to change that now

)
EDIT: As of November 4th 2013 I started replacing the chapters I originally wrote when I was a terrible writer with new updated versions that reflect my level of writing skill at this time. (I would like to note that while the new versions of the chapters were written with more skill than the originals I'm sure even the new versions can be improved upon) The comments and all their out of context glory will be left intact. I would like to thank everyone who read, enjoyed, or commented on the original version of this story. I hope you will all like the new story better.
Dernière édition par
DragonGirl
le 05 Nov 2013, 07:54, édité 3 fois.
.....Yay ... just yay