Initié
Messages: 288
Inscription: 23 Mar 2018, 00:09
When Ulrich, Yumi, Odd, Jeremy and Aelita meet the characters of Total Drama, Grojband and The Amazing World of Gumball...
Note : Ulrich and Yumi both measure 1.70 m. Jeremy and Odd are 1.65 m tall. Aélita is 1,60 m tall.
Frederic Martel was in his mother's car on the Turcot interchange, heading for Montréal-Trudeau Airport (formerly Dorval). His mother Karine could not digest that her son starts living alone in a big city at the age of only 15 years old. Indeed, although they will only welcome Alycia, Frédéric's older sister, from his return from South Africa to the airport, his mother and his brother, Nicolas, also lifted Frederic to Montreal so that he settle there. To say that the same morning he was still a student at Jean-Raimbault High School in Drummondville doing his French exam, his last exam of the session. He was at least happy since, two years earlier, he became responsible for a distinctive band of ... TOONS ... from the cartoon series Total Drama, Grojband and The Amazing World of Gumball. The gang includes Owen, Duncan, Courtney, Gwen, Mike, Zoey, Cameron, Corey, Laney, Kin, Kon, Gumball, Darwin, Anais, Nicole and Richard. He was going to live alone with them ... and five recruits to pick up at the same airport, the same day.
Karine : Fred ?
The young man came out of his thoughts impregnated with the song Major Tom (Coming Home) by Peter Schilling.
Karine : Fred ??
Frédéric : Yes, what ?
Karine : We arrive in 20 minutes. You will prepare your things.
F : OK.
* Here are the characters in question, with coherent actors if any. Are not displayed in full size. *
-Owen (Dubbed by Will Ferrell)
-Duncan (Dubbed by Jim Carrey)
-Courtney
-Gwen (Dubbed by Emma Stone)

-Mike
-Zoey (Dubbed by Margot Robbie)
-Cameron (Dubbed by Kevin Hart)
-Grojband (Corey, Laney, Kin et Kon (This one is dubbed by Seth Rogen))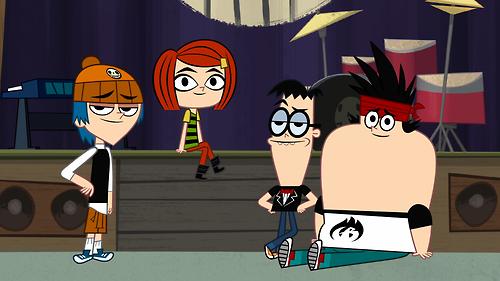 -Gumball
-Darwin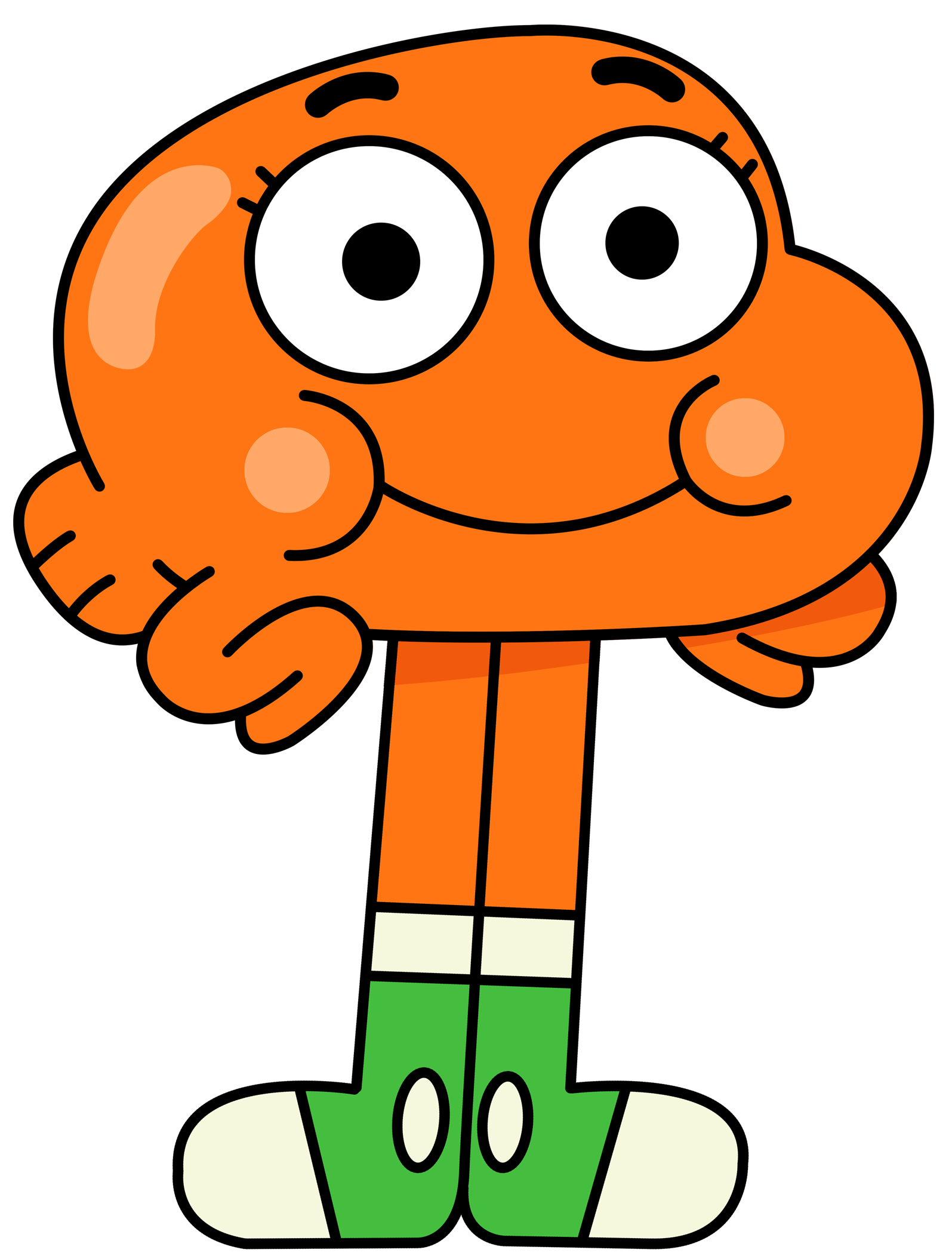 -Anais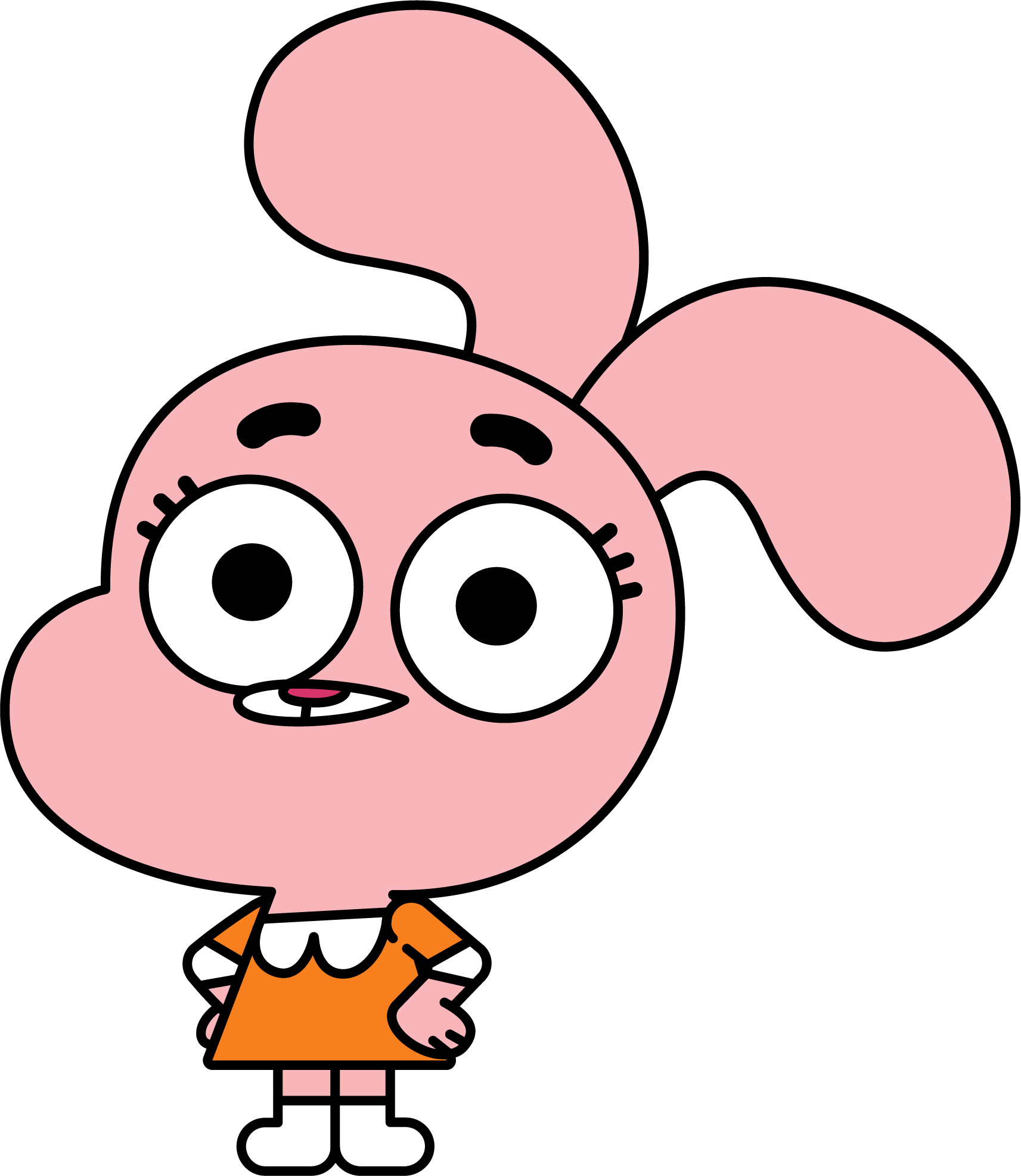 -Nicole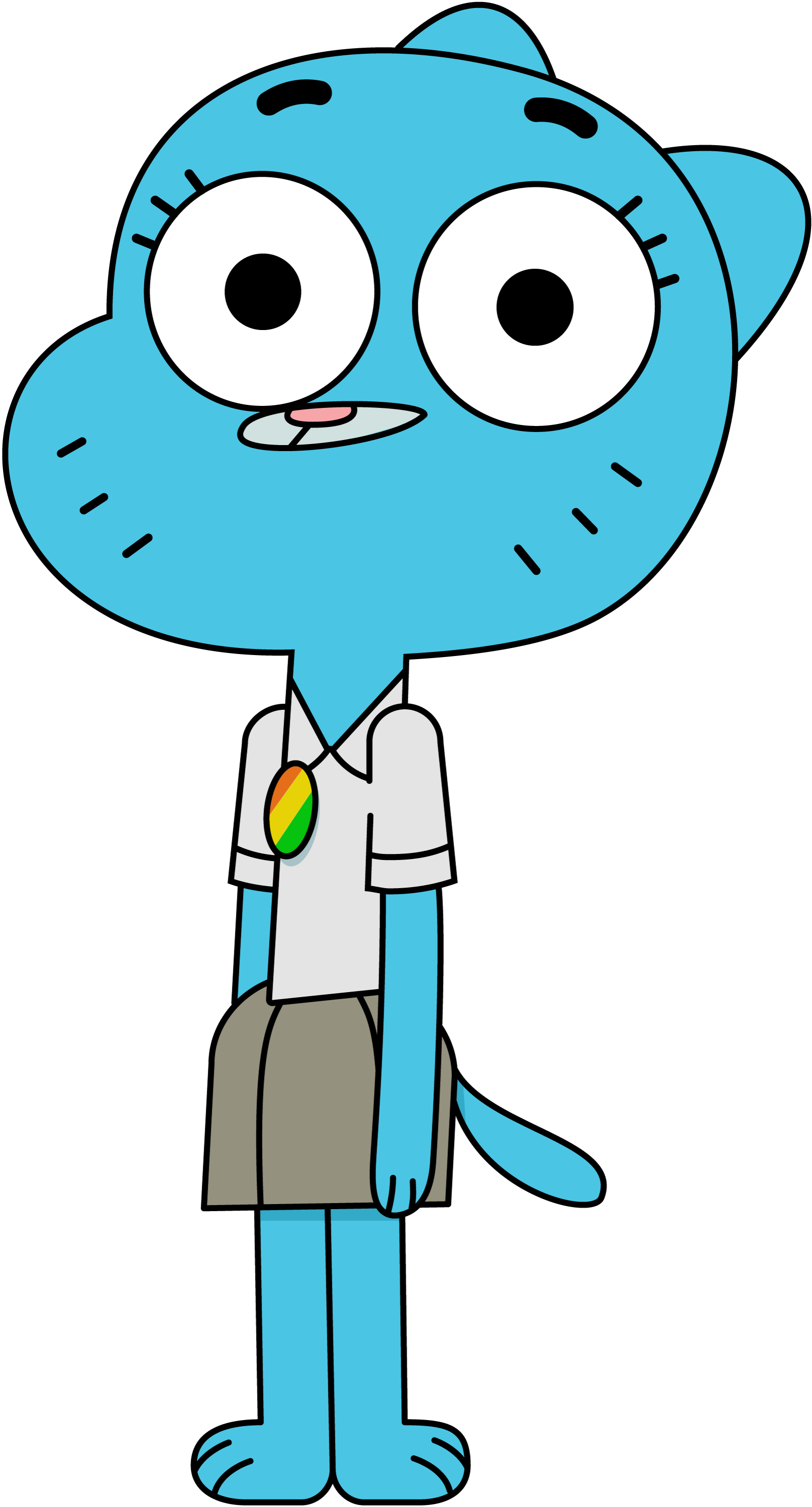 -Richard
The trio has been waiting for 1 hour for the arrival of Alycia. Frédéric is eager to meet the recruits and settle in his villa on Mount Royal, built by his friends toons during his high school 4. His sister arrives then.
Karine excited: ALYCIA !
Nicolas with a high voice : Alycia, the big poop !
Alycia : Nicolas !
F : Hi, Alycia.
Big hug.
Karine : How was it?
Alycia : Well ...
F : OH ! THE RECRUITS ! THEY ARE THERE !!!
Karine, Nicolas and Alycia : Huh ?
They turn their heads and see ... the Lyoko Warriors. Frédéric displays a happy expression, Karine is surprised, Nicolas is disgusted, Alycia is intrigued.
Ulrich to F : Excuse us. Are you Frédéric Martel ?
F : Yes, it's me !
U : Nice to meet you, sir. (Shakes his hand.) Here are my friends. Yumi, Odd, Jeremy and Aelita.
F : I know all who you are, I watched Code Lyoko !
J : Mmh ?
O : Why do you speak loudly ?
F : 'Cause i'm a lot happy. And you can tell me "you".
Nicolas : Hark and shit ! What is this chipmunk voice ?!?
O : Huh ?
F : He says you have a girl voice.
O : WHAT ?!?
The others laugh.
N : And the white one has a crappy laugh.
Y : What ??
U : Hey !
Alycia : The little girl has weird hair.
A : It's natural.
Karine : Huh ??
F : Where the pink eyebrows, also.
N imitating Gordon Ramsay lined parodically : Da fuck, I'm gonna puke !
F : Do not dramatize. I think Ulrich looks a little bit like you, Nick.
N : Fuck no !
F : OK. Yumi looks like Alycia, overflowing.
Karine and Alycia : No neither !
F : Okay. Worst meeting ever.
Fred and the Lyoko Warriors board the 1994 Ford Mustang Red, Fred's favorite Mustang, as his family leaves town, leaving him alone and independent.
They arrive at Frederick's new home. Duncan hears Odd say hi and turns around.
D : Hello. My name is ... WHAT THE FUCK !!!
O : Uh ... what ?
D : What's that, that hair and that's the girl voice ??
O : Huh ?
F sarcastic : Wow. Your way of saying hello has improved.
D : I'm sorry, but there is no guy on Earth who has a loud voice like that. He must be gay.
O : Hey ! I am not gay.
D : Hermaphrodite ?
Only Richard Watterson laughs.
D : Ok. My name is Duncan.
O : I'm Odd Della Robbia.
D : Ok, I have my dose of scrotum idiocy.
J and A : Yuck !
D : Come on ! It's like DOD in Scouts guide to zombie apocalypse.
O : Dod ?
D : Hey. I have an idea. If your names are too fuck ugly to be pronounced, I'll give you nicknames. For you, it would be Dod.
O : Hey !
D : Okay, let's continue the presentations. -Turning to Ulrich- You are ?
U : Ulrich Stern.
D : It's more normal, but I still give a nickname. You will be « Sexy-for-girls man ».
U : What ?
D to Yumi : What is your name?
Y : Yumi Ishiyama
D : Huh ? You're Chinese ?
Y : Japanese.
D : Ok. I'll call you "the Japanese one".
Y : Come on. It's too obvious.
D to Aelita : And you, wha... Holy Shit ! You're too muh pink ! Even your eyebrows are pink!
A : Uh...
D : Well, what's your name ?
A : Aelita Schaeffer.
D : Uh... You'll be "the pink one".
A : Too obvious.
Y : Also.
D to Jeremy : You, the last, what is your name ?
J : Jeremy Belpois.
D : Too much french ! You will be John Lennon # 2.
J : John Lennon ? Why # 2 ?
F : I am the # 1.
Everyone laughs, except the lyoko warriors.
D : Basically, you have a Beatles cut and round glasses.
F : Ok, let me describe them. Jeremy is 14 years old. This is the first of his class. He sucks in sport, but we do not care. I suck too. Aelita is his lover.
Jeremy and Aelita both blush.
F : Aelita is 13 years old. However, she spent 10 years in an extinct supercomputer. Jeremy has rekindled and saved his future girlfriend after many adventures of a year and a half. In short, there fought a maleficent AI like Skynet.
Owen : Cool !
F : Finally, she is an orphan since her father was killed by monsters of this AI. And she's chubby.
A : What ?!?
Owen : Big hug ! This is the best for orphan girls.
Owen hugs Aelita in his arms before plucking his cheeks.
A : Ooorrrh ! I hate that !
Owen : Sorry.
F : I'm going on. Odd Della Robbia is 14 years old. His high voice reflects his personnality as he is a boastful. It is said to be "slender" because it does not want to be treated as skinny.
Corey : I don't think he's skinny.
F : Besides, he went out with all the girls from his school, except Yumi, Aelita and a little bitch called Sissi.
Odd laughs hard.
F : He, Ulrich, is someone not to piss or humiliate. This is my favorite character among them because it's cool, but no one, nor his friends, wants to fucking admit it !
J : What ?? That's not true !
F : In any case, it is very attractive for girls. AND I AM NOT GAY ! He's Yumi's lover, but refuses to admit it while it is reciprocal with Yumi !
Ulrich and Yumi both blush.
U : Uh ... Yumi and I are friends and that's all !
F : SHUT UP ! How tired of waiting that sentence, goddamn it. It give all your fans shit, especially me. You are too sexy not to be together!
Y : What ?!? But we are only 14 and 15 years old !
D : If you are really sexy, as he say, well I wanna see that !
U and Y : What ?
Duncan grabbed their t-shirts and tore them off, exposing their sublime torsos. But the two fighters are too embarrassed and then covering their tummy with their hands.
J : Why did you do that ?? It's not going well in your head ??
D : Are you jealous ?
J : Not way...
But Duncan pulls out his sweater and Aelita's shirt too, who starts to scream as at her awakening from the nightmare of the episode Fight to finish (Season 4, 94th in total) by hiding her chest.
O : Hey ! You push too far there.
Duncan pulls off his sweater too.
O : Oooouuuuh! (Shout launched in the episode Arachnophobia, when he jumps on the gymnastic horse.)
F laughing hard : DUNCAN ! Stop it ! Ha ha ! Even if I dreamed to see him since a good end. Ha ha ha !
D : Mmh ?
F calm down : Finally, Yumi is Japanese and is 15 years old. And ... she's look like Ulrich: too sexy.
Y : Stop it !
F : I think that's it.
D : Anyway, everyone on the earth knows that the navel is the sexiest part of the body.
U, Y, J, A and O: SHUT THE FUCK UP !
Frederic shows Ulrich and Yumi their room.
U : Uh ... there is only one bed.
Y : Yeah. Where will the other of us sleep ?
F : Don't you see it's a bed for two people ? A couple, like ? Da !
Y : HUH ?!?
U : Oh, hell no ! Yumi and I are friends and ...
F : No, fuck your sentence !
As for the "three minis" (Jeremy, Aelita and Odd), they sleep in the room next door with a single bed and a double bed. (You already guess who is sleeping on which bed.)
A : Jeremy...
J : I know, Aelita. It's hard to sleep together in one bed.
A : No, I mean... We can finally be together.
J : Uh .. Aelita ?
A : I would like us to spend time together. I... I love you.
J : Me... me too.
The young blonde genie squeezes the pink-haired girl in his arms and caresses her shoulder tenderly. They then kisses on their lips.
In the basement, all the other toons are gathered with bunk beds. Most of them are couples (Mike-Zoey and Corey-Laney). The last two are talking in a very low voice.
Laney : Core.
Corey : Yeah ?
Laney : Can I kiss you, please ? I'm bored.
Corey : Yes, you can.
Corey gently takes her cheeks and tenderly puts his lips on those of Laney. How romantic it is.
Meanwhile, Ulrich and Yumi are in their pajamas and blush hard at each other's presence. Both pesilats have white jerseys.
U : Yumi.
Y : Yes ?
U : You... your tank top fits you well.
Y : Thank you. Yours as well.
U : Thank you. By the way, we...
Y : Yes ?
U : We've seen your belly button since we met.
Y : I know, but I like that, finally. Seen by Fred, it was embarrassing for me.
U : Yeah, he's a bit intense, we can say...
Y : Ulrich.
U : Yes ?
Y : Can you massage me the abdomen, please ?
U : What ? Touching your belly ?
Y : Yes. I have been suffering from celiac disease since I was 12 years old, have you forgotten ? Without being harsh.
U : Yes, I forgot. Sorry, Yumi.
Y : It does not matter at all. But do you massage my abdomen, yes or no ?
U : Uh... no...
Y : What ??
U : I... I can't, Yumi... It seems to me a little too romantic and we are only friends and that's all, you and me ...
Yumi starts to cry.
U : What's wrong ?
Y : I do not want to be just your friend anymore. I hate myself for saying that.
U : Yumi...
Y : I LOVE YOU, ULRICH ! I have always loved you ! But all our chances have collapsed ... BECAUSE OF ME !!!
U : Yumi, lower the tone ! We will hear us !
Y : I'm sorry but... sniff... I'm not a good person. I am only a closed bitch who did not give you any real attention.
U : Do not say that about yourself, Yumi. You are extraordinary.
Y : No ! You've been humiliated many times by William ! It was a little bit funny, sometimes, but I had no real remorse. Excuse me for all this, Ulrich. (Crying)
U : I forgive you, Yumi. Do not cry anymore, now.
Y : I will redeem myself only... sniff...
U : Mmh ?
Y : If you agree to be... sniff... my lover... I love you, Ulrich.
U : Uh... Yumi...
Y : Do you accept?
U : N... no... I can't. I'm not ready to be your boyfriend, Yumi. Sorry, but you had to think about it before hanging out with that bastard William is.
Yumi is hurt by Ulrich's words and sobs in her pillow. The young samurai, however, had great difficulty in saying this, he shed a tear. He then strokes Yumi's shoulder, who blushes and looks at him.
U : Yumi. I apologize.
Y : Mmh... sniff...
U : For the moment... I propose... (Breathing loud) That we are best friends ...
Y : Best friends ?
U : For now, this status would be preferable.
Y : Uh...
U : What do you think about it ?
Y : Mmh... it's okay.
She smiles and hugs him.
U to his ear : By the way, kisses on the cheek of the other are admitted.
Y : Sweet !
She kisses him passionately on the right cheek. Ulrich also kisses her cheek but longer.
Y : I hope deep inside you (caress his belly) you're still in love with me.
U : Yes, I still love you. But...
Y interrupts him : So, not what to expect.
She wants to kiss him on the lips, but Ulrich pushes her hard.
U : No, Yumi ! You wait ! We'll be together someday, but not tonight or tomorrow. Not even before January 1st ! Understand ??
Y : Y... yes...
She puts her head on her pillow and pours silent tears again. Ulrich blames himself, so he hears Yumi's belly gurgle. The latter moans with pain.
U kisses her on the forehead : I'm sorry again. You will have your belly massage.
Y : Really ?
U : Yes. I can't leave you with abdominal pain for the entire night. I love you.
The girl hugs him hard to thank him. She then removes the cover and lifts her tank top. Ulrich lights his lamp and then blushes at the sight of his best friend's pale but sexy abdomen.
U : Yumi. Your belly is very pretty.
Y : Thank you very much. Take the oil, please.
U : No problem.
Ulrich pours the oil on the abs of the geisha and puts his hand on it. Yumi's belly is softer than he thought. The girl tolerated it. (You'll see the reason later, but it's edited.)
U : You have belly, but it's very cute.
Yumi laughs like in A lack of goodwill as blushing.
Y : Thank you. I like my belly fat. My mother too.
U : This is not related to the situation, but Fred does not know that we have different ages than in our series.
Y : I know he doesn't know it. We'll tell him tomorrow morning. How are you ?
U : Heard.
He kisses her on the cheek and continues the pleasant abdominal massage on her Sun-Rising friend.
To be continued...